Introducing your National Chairman: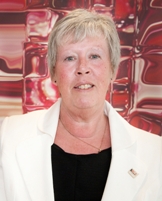 Anne Bull

Anne Bull, the former National Vice Chair of LACA Ltd, the largest network of public and private school meal providers in Britain, has been elected as the new Chairman of the organisation from 17 September 2012 – September 2013.

A LACA member since 1995, Anne became the LACA Welsh Region Chair in 1996, a position she has held until this year. She is a Member of the Board of Directors of LACA Ltd and was elected LACA National Vice Chair following the LACA AGM in September 2011.

Anne was born in Wales but went to school in Shrewsbury, attending Priory Grammar School for Girls. She left school at 17 and gained her catering qualifications at Birmingham College of Food & Domestic Arts, now part of University College Birmingham. In later years, she has gone on to achieve an MBA and a degree from the Chartered Institute of Marketing.

Upon leaving college in 1974, she joined the BBC as a Trainee Catering Manager. Following this, she took up a position as Assistant Manager with Sutcliffe Catering, now part of the Compass Group. Over a period of thirteen years, Anne rose through the ranks to become Area Catering Manager covering South West Wales, overseeing contracts such as Lombard Tricity Finance, L'Oreal, 3M and the Texaco Refinery (now operated by Valero).

In 1989, Anne entered the school food industry when she joined the newly formed in house Term 3 Catering team at Mid Glamorgan County Council and held the post of Senior Operations Manager. The organisation was set up by Chris Campbell, at a time when Compulsory Competitive Tendering (CCT) was coming into force. One of the management challenges Anne and her colleagues had to face was achieving a 30% reduction in labour costs as part of the council's efficiency aims for its catering operation.

In 1996 Local Government Reorganisation (LGR) took place in Wales which resulted in 8 County Councils being changed into 22 Local Authorities. Anne became the Head of Catering and School Facilities Services at Rhondda Cynon Taf County Borough Council, the second largest authority in Wales, just north of Cardiff. Responsible for producing around 21,000 meals per day and a turnover of £15 million a year, Anne heads up the 1700 council staff who are employed in the catering service across an extensive geographical area. She oversees 150 different sites which produce 12 – 13,000 Primary and 8-9,000 Secondary school meals per day. In addition to this, she is responsible for the council's Meals on Wheels service which produces 1,300 meals seven days a week and for the management of four council staff restaurants.
.
Anne is a passionate believer in the school meals service and is working to ensure the service continues to improve the health and well being of children and young people nationwide. She has developed something of a reputation for her quiet determination and recently, she has been described as an 'iron fist in a velvet glove'. Anne has been instrumental on the Food in Schools Working Group, supporting and advising the Welsh Government in the development and implementation of the Welsh Nutritional Standards known as 'Appetite for Life'. Their introduction, effective from only this month (September 2012) in Welsh Primary schools but not until 2013 for Welsh Secondary schools, has been deliberately slower than was the case for their English counterparts. Anne has played a key role with others to ensure that the pathway for the Welsh Standards was carefully considered and thoroughly piloted in order to ease them into practice with minimum operational difficulties and customer resistance.

Commenting on her appointment as LACA's new National Chair, Anne says:

"I am privileged and honoured to have been chosen as the LACA National Chair and I am committed to ensuring that LACA continues to be the voice of the school food industry. LACA Members are passionate about the work they do for pupils and students in schools across Britain so one of my principle aims is for LACA to look at ways in which we can support 'frontline' staff, such as through new training and development packages. I am also keen that at the same time as raising the school meal industry's profile at the national and political level, we also focus on the 'grass roots' needs of the LACA regional network which, I believe, is the bedrock of our organisation".

"Much work has been undertaken over the last year to raise the profile of LACA, both inside and outside of the industry. I will be aiming to continue the work, started by former National

Chair Lynda Mitchell, to ensure that school food sits high on the political agenda. We have as a result of new relationships, won a place on several public review bodies and national pressure groups. LACA has also successfully forged some strong links with politicians and other industry bodies to ensure that the role of school meals remains at the core of the debate on future public health strategies as well as those focused on the well being of our children and young people".

"With Henry Dimbleby and John Vincent, the Leon Restaurant chain co-founders, appointed to conduct another Government inquiry into school food, one of my key roles as National Chair will be to ensure that the wealth of knowledge and expertise that is available to them from LACA and its Members is embraced and reflected within the action plan they have been tasked to produce during 2013".

"As LACA Chair my intention is to work closely with other Board Members to review and redefine our Future Directions strategy so that we can take our organisation into a new era of development, growth and influence. One, I hope, that will build upon and extend our affiliations with other like minded organisations here in the UK as well as elsewhere in the world".