'Fit, Fed and Read' rolled out for Hertfordshire kids this summer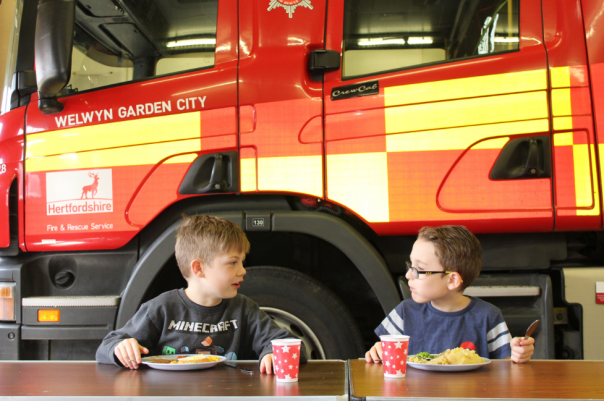 30 Jul 2018
Designed to combat hunger, physical inactivity and social isolation across Hertfordshire this summer holiday, the Herts Sports and Physical Activity Partnership (HSP) has extended its Fit, Fed and Read programme.
Drawing inspiration from national StreetGames initiative, Fit and Fed, HSP piloted its own programme 'Fit, Fed and Read' at Welwyn Garden City and Hatfield fire stations in Easter.
Its success has led it to expand the scheme to a further four fire stations - from two to six – for four weeks during the summer holidays.
HSP partnership director, John O'Callaghan, said: "I am delighted that we are leading on this project, which will help raise the aspirations and life chances of some of Hertfordshire's most disadvantaged young people.
"Having so many key partner agencies working together towards such a praiseworthy goal is hugely encouraging – and we are truly indebted to Hertfordshire Catering Ltd for its fantastic on-going support of this programme."
As such, the programme will focus on healthy eating, sport and physical activity, and improved literacy, with Hertfordshire Catering Ltd. (HCL) providing the children a nutritious two-course meal every day.
It will also be facilitating interactive sessions to teach those enrolled about healthy eating choices and experience, such as making fruit smoothies using pedal power on specially adapted smoothie making bicycles.
Ian Hamilton, HCL chief executive, commented: "We're proud to continue supporting the Fit, Fed and Read programme, in partnership with our suppliers Bidfood and Histon Produce.
"Holiday hunger is a huge issue around the nation, with more and more research showing that some children do not get the same nutritious food during their holidays as they do at school.
"We hope this programme will help to work towards addressing these issues in Hertfordshire."
The local fire stations will meanwhile offer secure indoor and outdoor activity spaces, and host a number of physical activity programmes and 'fun' literacy sessions co-ordinated by Hertfordshire Libraries. 
The programme will take place at Stevenage, Watford, Hemel Hempstead, Borehamwood, Hatfield and Cheshunt fire stations from 30 July-23 August.

For more information, visit: https://sportinherts.org.uk/.