03 Nov 2022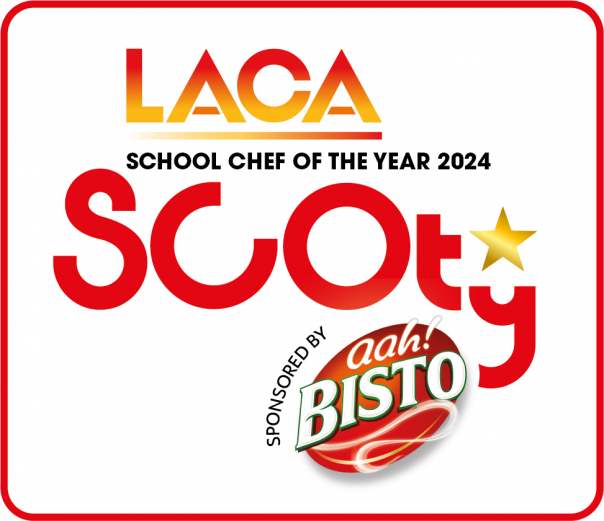 Register to take part in LACA School Chef of the Year 2024
LACA'S School Chef of the Year 2024 competition, sponsored by Bisto, from Premier Foods
The competition is open to all kitchen-based staff involved in the daily preparation of pupils' meals in schools across the UK whether from a local authority or contract-catered site, managed in-house, academy school or part of a Multi-Academy Trust.
REGISTER YOUR INTEREST IN TAKING PART IN SCOTY 2024
The national final will once again be held at the LACA Main Event on Wednesday 3rd and Thursday 4th July at the Hilton Birmingham Metropole with the overall winner announced on the evening of Thursday 4th July.
Regional final winners will each receive a £100 cash prize. At the national final, the 2024 national winner will receive a £1,000 cash prize, the 2024 LACA School Chef of the Year trophy and an invitation to a calendar of catering industry events. The national second and third place winners will receive £500 and £300 respectively
Sarah Robb, foodservice marketing manager at Premier Foods, 2024 competition sponsor said:
"LACA School Chef of the Year has been one of the highlights of the school catering calendar for many years and so we are excited that Bisto is sponsoring the event this year. We'll be supporting and celebrating the chefs who get involved throughout the process and can't wait to be part of the judging panel to help find the next star of school meals. The Premier Foods foodservice team work with chefs across the UK and we'll be encouraging as many as possible to get involved and submit an entry. It's a great way to test and develop your skills whilst potentially putting your school on the map."
REGISTER YOUR INTEREST IN TAKING PART IN SCOTY 2024
---
More details coming soon!
Key dates
November 2023 – registrations open
Friday 26th January 2024 – final date for registrations
Friday 1st March 2024 – deadline for full entries to be returned to competition organisers
mid March 2024 – paper judging of all entries
Regional finalists to be notified by Friday 29th March 2024
April – June 2024 – regional finals
Late June 2024 – national finalists briefing day
Wednesday 3rd and Thursday 4th July 2024 – National Final at the LACA Main Event, Hilton Birmingham Metropole.
REGISTER YOUR INTEREST IN TAKING PART IN SCOTY 2024
---
Read more about the LACA School Chef of the Year 2023 competition and finalists
---