Nottingham City Council invites VIP guests to eat a school meal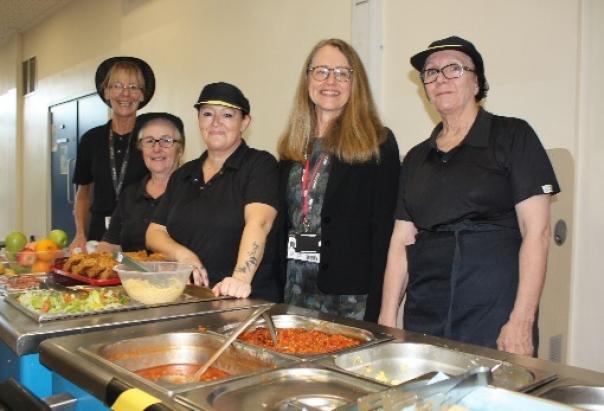 10 Nov 2023
A line-up of VIP guests have been visiting schools in Nottinghamshire for National School Meals Week including local MP's, council directors and a former chair of LACA.
The guests were invited by Nottingham Catering to meet catering teams to find out about the challenges the industry is facing and the difference a school meal can make to young people. They also enjoyed a school meal with the children.
Alex Norris MP for Nottingham North and Lucy Hubber, director of Public Health at Nottingham City Council visited Rufford Primary School in Bulwell and enjoyed a Quorn chilli with fruit dessert.
Norris said: "A hot meal at lunchtime is so important for children's education. I commend the really important work the industry is doing, particularly during a cost of living crisis, to ensure that every young child in Nottingham can reap the benefits of a healthy, balanced lunchtime meal."
Catherine Underwood, corporate director for People (children and adults) at Nottingham City Council visited Ambleside Academy in Broxtowe and former chair of LACA Jacquie Blake visited Westbridgford Junior School.
The catering team at Ambleside serve 340 school meals a day and 400 on a Friday as children especially like the Friday menu of fish or pizza. Catherine had a baked potato with cheese, beans and salad.
Commenting on her visit, Blake said: "A huge thank you to everyone at West Bridgford Junior School and Nottingham Catering for the invitation to share lunch during NSMW. What a pleasure to see a great team, super food and all the pupils tucking into their lunch.
"To top it off I was also serenaded by the school choir. A wonderful lunchtime, showcasing the great work done every day by LACA members, ensuring pupils receive a hot healthy school meal."