NSMW kicks off in style with roadshow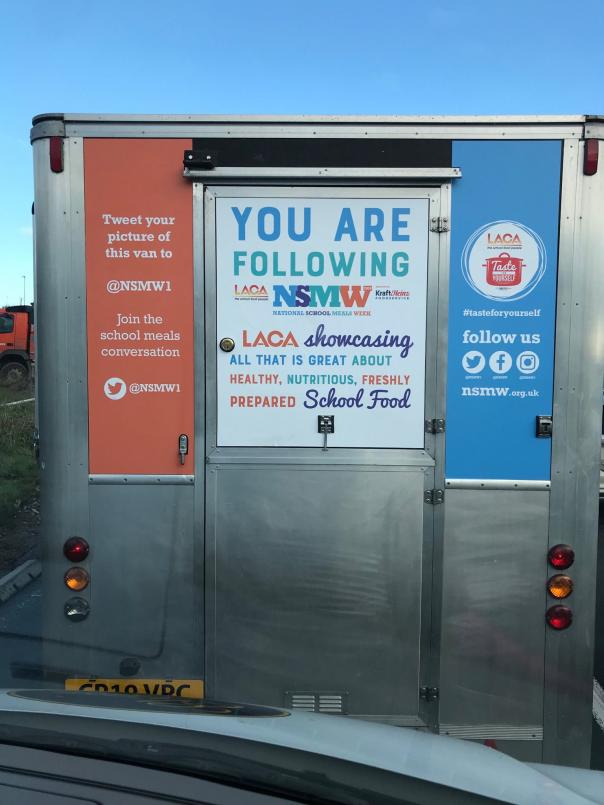 13 Nov 2019
LACA's annual National School Meals Week (NMSW) has kicked off in style this week with its roadshow around the country.

Running from 11-15 November, the week aims to celebrate all that is good about school food.
Beginning on Monday at Highfield Community Primary School in Chester, the NSMW van will make its way across the country, ending at Stratford Manor Hotel on Friday (November 15) at the annual Autumn Seminar.  
At it visits in each region, it will be encouraging people to #tasteforyourself and showcase the school meals in each area.
LACA's national chair Stephen Forster said: "LACA's National School Meals Week (NSMW) continues to go from strength to strength every year. Last year, we celebrated NSMW's Silver Jubilee. For over a quarter of a century, LACA has worked hard to promote school food and the benefits of a hot, healthy and nutritious school meal.
"LACA are delighted to be taking schools meals back on the road again this year with our Taste it For Yourself Roadshow. The Roadshow encompasses all ten of the LACA regions. We launched NSMW week at Highfield Community Primary School in Chester highlighting the importance of eradicating palm oil from non-sustainable sources on school menus and I joined the Roadshow in Stockton, where I was served a beautiful vegan curry by the School Chef of the Year, Stephen Cross. It has also been great that many respective parliamentary candidates have joined us so far on the roadshow, confirming their commitment, if elected, to school meals.
"In my capacity as National Chair, I am also proud to be launching our Move it with LACA initiative later this week, which will aim to ensure that more pupils are moving throughout NSMW and the year ahead through a number of initiatives, including the Daily Mile campaign. I look forward to engaging further with our members and supporters alike over the next few days."
To find out how you can get involved with NSMW visit: https://laca.co.uk/national-school-meals-week-nsmw-2019and tweet @NSMW #NSMW
CORRECTION: This story previously talked about 'eradicating palm oil from school menus' from Stephen Forster where he mentioned that Edsential  had eradicated the use of Palm Oil from school menus. It should have said that Edsential had eradicated Palmoil from non-sustainable sources that are damaging the environment and threating to wipe out wild life particularly Orangutans. They will only use deforestation free sustainable palm oil and have received certification from the RSPO.