Olleco raises £100,000 for catering charity Hospitality Action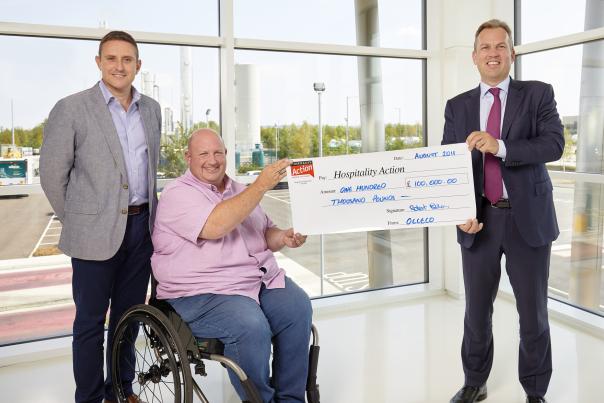 21 Aug 2018
Olleco, the renewables division of ABP, has raised £100,000 to support Hospitality Action, the catering industry's first charity.
The funds raised by the company, which collects used cooking oil and food waste and transforms it into biofuels, energy and fertiliser, will be used by Hospitality Action to transform the lives of people from the industry who experience challenges and find themselves in need. Situations can range from homelessness and addiction, to domestic abuse and life-changing illnesses.
Robert Behan, CEO of Olleco said: "We're delighted to be able to support the amazing work of Hospitality Action. Our business depends on people in the hospitality industry and we are dedicated to giving something back to them when they fall on hard times. We're not doing this for commercial reasons; it's simply the right thing to do. And, like me, our customers can take real satisfaction from the fact we're not just safeguarding the environment, we're also helping to look after our colleagues and friends, now and into the future."
Olleco's donations have helped over 540 families, including Simon Howlwell's, who worked for Maison Blanc as a pastry chef until he was paralysed by a spinal infection. When he desperately needed a lightweight wheelchair, Hospitality Action were able to step in and give Simon the freedom, as he puts it, 'to start leading a normal life again'.
Mark Lewis, chief executive of Hospitality Action, said: "Hospitality Action exists to offer lifelines to people who work or have worked in hospitality and find themselves in difficulty or crisis, but we can only do this with the support of the industry we serve.  I'm proud of all the people and businesses that help us – and none more so that Olleco, one of our staunchest champions."
Hospitality Action's Principal Patron, chef and restaurateur Jason Atherton, said: "To raise and donate £100,000 is an astonishing gift, one which the whole team at Olleco should feel very proud of. The fact that they are doing so by collecting and recycling foodservice waste makes this a win-win for the industry."