Pasta King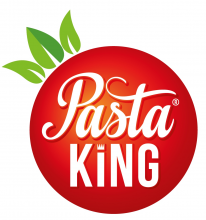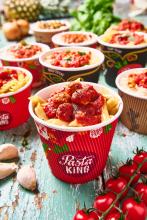 Pasta King is based in Newton-Abbott in the heart of Devon. We have been focussed on supplying healthy, nutritionally compliant, hand-crafted, freshly made sauces to the Education sector for nearly 30 years!  
Our mission is to 'provide great food that does good' and our aim is to make it as simple and easy as possible for our customer to prepare and serve delicious and nutritious food. We pride ourselves on providing great customer support and proactive and responsive account management.
We offer a wide range of over 40 sauces including 16 vegetarian, 11 vegan and Halal options. We continually develop our range to help our customers to keep their menus fresh and to help drive sales. Recent examples include Hungarian Goulash, Hot Taco sauce, Scandinavian meatballs, and Moroccan Tagine, part of our Big Flavours range.
All our sauces are made fresh to order and are delivered chilled. All our sauces come with a free allocation of pasta (including whole wheat), rice or noodles.
Our meals are all school compliant. They're low in saturated fats and sugars, they don't contain any undesirable additives (including artificial colourings, flavourings, sweeteners, GM ingredients or Palm oil). Our tomato-based sauces contribute to one of your 5 a day. We use carrot as a natural sweetener. Salt levels meet FSA targets.  
We support our customers to drive sales through branding and point of sale. We are also able to provide a range of free on loan equipment. Our equipment is designed to optimise product quality over a sustained period of service, and it can help in creating additional serving points to reduce queues and drive-up sales.
Having a vibrant and enticing dining environment is important. We offer all customers the option to select red or black Pasta King branding – typically this includes equipment, vinyl's, menu boards, hanging signs and promotional posters. Our flexible approach to branding allows customers to customise or co brand with their own logos and names.
Our team of regional business managers agree regular visit schedules with all customers to support the on-site catering teams with menu reviews, to ensure they are aware of our latest innovations and are provided with up-to-date POS and to consider activities and actions that may help to drive sales. They are also available to run taster days.
Contact - 0800 458 7898
Email – enquiries@pastaking.co.uk
---
Partner Q&A with Jo Fray, Marketing Manager, Pasta King
Tell us about your product/service range?
Here at Pasta King, we freshly make and deliver a high quality fully finished sauce, supplied with either pasta, rice, or noodles. We are proud to be the leading supplier of sauce to the Education sector. We are renowned for helping caterers serve consistent quality meals that students know and love.  
Why is it so well suited to the school food sector?
Not only are our meals full of flavour but full of goodness too…
Each of our meals are school compliant so caterers can feel reassured serving our products knowing that their students are not only getting a tasty, wholesome meal but they're nutritious too. Everyone is a winner!
What are the biggest challenges you are facing for your businesses?
Like everyone else the biggest challenge we continue to face is managing costs to ensure we can keep our products competitively priced.
 
What do you do to support the school food sector beyond the supply of your products/service?
We provide free on loan equipment, branding and POS to help bring dining areas and menus to life, creating a nicer experience for students.  
We provide regular training and taster days to help schools better understand how to best serve our product and allow students the opportunity to try new flavours.

Why is supporting LACA and their work so important to you as a business?
To be able to represent the industry and to highlight the opportunities and challenges within the sector and strive for change, something which an individual supplier would struggle to do on their own.
What was your favourite lunch when you were at school?
I was part of the packed lunch crew. Unfortunately, my school was deprived of Pasta King! I remember it being all very beige. So, the go to thing we would occasionally eat back then was chip butties. Schools are spoilt for choice now, especially with Pasta King on the menu!