Quorn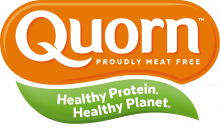 The unique Quorn ingredient is the simple solution to great tasting meat-free meals that are perfect in education – helping to make school menus relevant to vegetarians and those looking for a healthier option.

School caterers know they can rely on us to deliver high-quality products with strong health credentials that meet all of the Government's nutritional standards. Low in fat, low in cholesterol and high in protein, the incredibly versatile Quorn range positively transforms traditional meals into exciting, healthy and wholesome dishes that don't compromise on taste.

We aim to help caterers create tasty meals that will leave pupils wanting more. Together with our team of home economists, we can put innovative, nutritious and delicious dishes at the heart of your menu.

The unique ingredient in all Quorn products is mycoprotein, an edible fungi and a relative of the mushroom family. It provides a good source of protein, is low in fat, low in cholesterol and contains no additives or artificial colours. It is also a good source of dietary fibre and essential vitamins and minerals to aid the development of healthy bones, joints, blood and the digestive system.

Click here to view our full range of products.