Vbites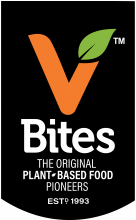 THE ORIGINAL PLANT BASED PIONEERS
VBites are world leaders in the manufacturing of dairy, meat and fish-free products - with unrivalled quality and range.

We've been pushing the boundaries of Plant-Based food technology for 30 years. Established in 1993, we have been doing this for a very long time...and doing it very well (if we may say so!) Above all, we care about the health of our fellow humans, the animals and the planet - it drives everything we create and do.
Our IP is world leading, having created 140+ products to date and counting... We are the only company with the innovative technology and quality to produce across the dairy-free, meat-free and fish free sectors. We export to 24 countries via branded, private, and white label.
100% UK and 100% Plant Based
All products are manufactured in the UK at our Plant-Based only facilities. That's c.250,000 sq. ft. of 100% Plant-Based factories in both Corby and our North-East of England 'AA' BRC accredited facility
Our original innovation lab in Corby has been creating meat and fish free products since 1993. The breadth and depth of our IP is unrivalled - from our award-winning VMega Burgers to succulent salmon and fish steaks - all your Plant-Based deliciousness under one roof!
In the Northeast we've left no stone unturned in our quest to provide the BEST in Plant-Based allergen-free, dairy free cheeses.
Through our investment partnership with German conglomerate Pfeifer & Langen, we are futureproofed for success.
Sean Ferguson
Sean.Ferguson@VBites.com
07500 703239
Farouk Hashmi
Farouk.Hashmi@VBites.com
07977 071563
Natalia Wakarecy
Natalia.Wakarecy@VBites.com
07584 813234
---
Q&A with Sean Ferguson, Senior National Accounts Manager
Tell us about your product/service range?
SF: VBites are the leading makers of dairy free, meat-free and fish free substitutes. Fully manufactured in the UK, our products are distributed worldwide, and no other 100% vegan company comes close in terms of range . Through our taste obsessed research and development , we are focussed on delivering a wide variety of delicious and healthy plant-based alternatives to satisfy both Vegans and Flexitarians alike.
 
Why is it so well suited to the school food sector?
SF: Around 8% of children in the UK consider themselves Vegan and a further 15% of children have expressed an interest in trying Vegan Foods. We offer LACA members a one stop shop to simplify their offering with versatile, cost-effective solutions that don't compromise on quality.
 
What are the biggest challenges you are facing for your businesses?
SF: Fluctuating market conditions continue to put pressure on our supply chain. At VBites, our 100% plant-based manufacturing facilities are allowing us to manage the challenges more effectively than many plant based and vegan manufacturers.
 
What do you do to support the school food sector beyond the supply of your products/service?
SF: We are Brand new to the school sector and can't wait to engage with all of you and work collaboratively to deliver meaningful support that you need. We understand that support isn't a one size fits all and we are well placed to deliver bespoke support tactics based on your needs.
 
Why is supporting LACA and their work so important to you as a business?
SF: It's important to us that we contribute to the health and education of future generations. We want to share our knowledge, support and resources and provide a delicious vegan alternative to traditional school meals that help to fuel the children and equip them to reach their full potential.
 
What was your favourite lunch when you were at school?
SF: Not so much a lunch, an old school cafeteria iced sponge cake takes some beating (does this count……)