Young's Seafood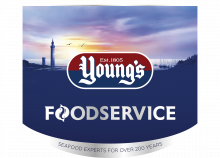 Established in 1805, Young's is proud to be the UK's leading fish and seafood manufacturer.
 
Our dedicated foodservice business has been developed to offer a range of quality products that meet the specific needs of different sectors within the market. With wide distribution across all major UK wholesalers, many education establishments are already benefiting from Young's meal solutions.
  
Education establishments are under and increasing amount of pressure to provide a menu that is nutritious, enjoyable and cost effective, so we have developed a range of tasty gluten free, non-fried, MSC and oily fish solutions that meet School Food Standards. We understand the challenges kitchens face to turnaround a large number of hot meals with often limited resource, hence why we have developed products that can be cooked quickly from frozen for ease and convenience. Our individually quick frozen portions not only lock in freshness, they also help to reduce waste as the required portions can be removed from the pack without fear of them being stuck together.
  
Here at Young's a large proportion of the fish we use originates from Alaska. Alaska seafood is naturally high in many essential vitamins, including E, C, D and A, as well as being an important source of omega 3, which is proven to strengthen the immune system and lower the risk of heart disease.
  
At Young's we pride ourselves on being incredibly passionate about fish and seafood. Everything we do is guided by our 10 principles and our award winning Fish for Life sustainability programme on responsible sourcing, because we believe in inspiring people to love fish now, and for generations to come.
 
To discover more about how Young's Seafood can work for you, visit www.youngsfoodservice.co.uk, or contact your local Young's Business Development Manager.