18 Apr 2019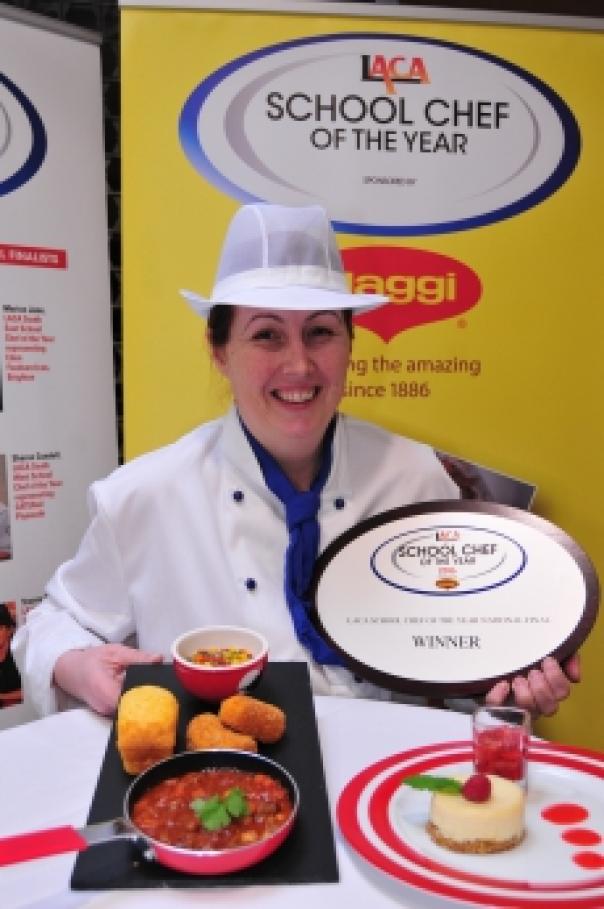 Kath Breckon, the Yorkshire & Humber regional final winner, has been crowned LACA School Chef of the Year 2016 (SCOTY) at the national final held on Thursday at Stratford Upon Avon College.
The competition is organised annually by LACA (Lead Association for CAtering in Education) and is sponsored by Maggi from Nestlé Professional.
Kath's main was a St Hilda's spicy beef pot, caedmon cross-bread, bram stoker sweetcorn and 199 steps croquettes. The dessert was Dracula's bat-tastic baked lemon cheesecake.
Kath has worked at Westcliff Primary School, Whitby, North Yorkshire for seven and a half years having previously worked in local hotels and restaurants. She prepares around 140 meals a day for 4 – 11 year olds (2 – 11 year olds from April).
LACA School Chef of the Year 2016, Kath Breckon, said: "I am so proud to have won the national title.  With the skill amongst this year's finalists being so high, I felt it was an achievement in itself to compete with such a talented group of people. 
"All of this just goes to prove what a good job school chefs do, day in, day out, up and down the country to provide tasty, nutritious meals for millions of children."
Annette Graham from Roger De Clare First School, Puckeridge, Ware, of Hertfordshire Catering Ltd, representing the East of England region, was awarded the Highly Commended main course for her dish of Market Terrine with Sides.
Shereene Weston of Chartwells Lewisham, from John Ball Primary School, Blackheath, South East London, was awarded the Highly Commended dessert award for her Spiced Pineapple Cake with Lime Custard.
Sharon Hornby, from Poulton St Chad's School, Poulton-le-Fylde, Lancashire County Caterers, representing the North West region, was awarded the Marketing table certificate.
This award acknowledges the creativity and efforts put into the display tables produced by the Finalists as a backdrop to their dishes.
The 10 LACA School Chef of the Year 2016 National Finalists came from across Britain and all work at the frontline of school catering, with first-hand experience of the challenges of feeding both children and young people. 
Peter McGrath, LACA National Chair, said: "My congratulations go to Katherine Breckon.  Her success in taking the national title is a major achievement given the exceptionally high standard of culinary skills of all of this year's Finalists.
"LACA School Chef of the Year is a fantastic way of showing why every school should be striving for a high quality catering service. School meals can play a major role in laying the foundations for children's future eating habits and their long term health.  
"Our front line catering teams are, therefore, critical to the process of educating young people about how food and eating better can help them achieve more, both academically and physically.
"They are passionate about preparing tasty, nutritious meals that help alter eating habits and improve wellbeing.  All of the contestants who have taken part this year should be inspirational role models for the food and beverage service in every school across Britain."
Chair of the Judging Panel at the 2016 National Final was Justin Clarke, Food Development Chef for MAGGI at Nestlé Professional. Also on the Judging Panel wasa professional chef judge (Christopher Basten, Chair, Craft Guild of Chefs), a local authority catering professional (Jacqui Webb, LACA), a leading dietitian (Jasmine Challis, British Dietetic Association), the LACA School Chef of the Year 2015, Kate Davies from Wales and two Year 6 pupils from The Willows Primary School, Stratford upon Avon school (Eve Green and Kyra Barboutis).