18 Apr 2019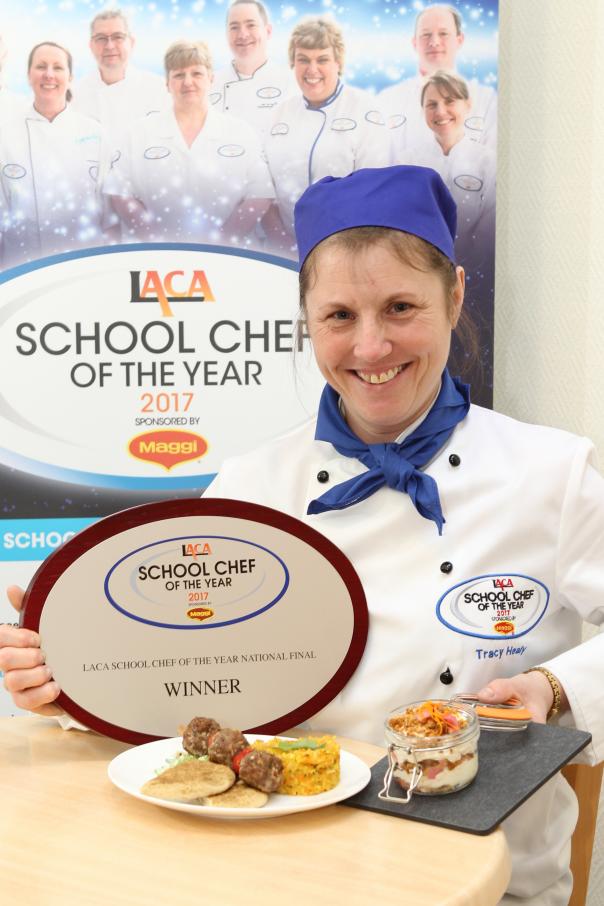 Tracy Healy, a school cook at Ravensthorpe Junior School in Dewsbury, West Yorkshire has been named School Chef of the Year 2017 after winning the final of the competition against nine other regional winners yesterday (March 2nd).
Her main course of lamb kofte and cherry tomato skewers followed by a dessert of rhubarb and ginger fool was good enough to convince judges she deserved the title at a cook-off in Stratford, Warwickshire.
Tracy, who works for Kirklees Council School Meals Cateriing Service, took her place in the final after winning the Yorkshire & Humberside regional final, and takes over from 2016 winner Kath Breckon, who also represented the region and steps down after a busy year as UK school meals ambassador.
Judges also made two highly commended awards, with Michael Goulston of Peartree Spring Primary School in Stevenage, who works for Hertfordshire Catering Ltd, winning the main course award for his Hertfordshire chicken and ham pot pie with mustard mash, and Jose Davies Kochakkadan of Marston Green Infants Academy, who works for Solihull Catering Services, got the dessert award for his innovative mango frangipani, which used mashed potato among the ingredients.
The annual competition, organised by LACA (Lead Association for Catering in Education) and sponsored by Maggi from Nestle Professional, challenges school cooks to prepare a two-course meal suitable for a 10-year-old on a budget of just £1.30 for ingredients.
Watch the winners video here: