18 Apr 2019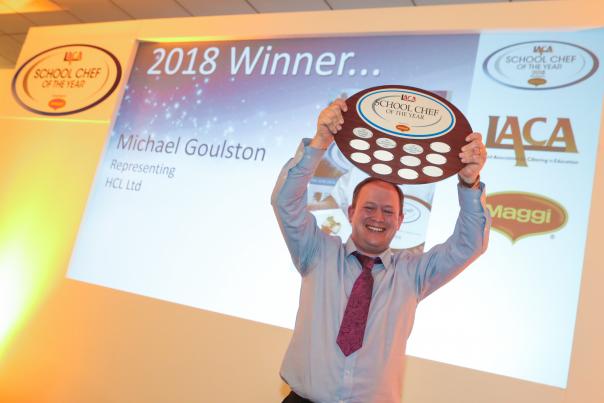 LACA crowned its 2018 School Chef of the Year – Michael Goulston from Peartree Spring Primary School (Hertfordshire) - on 8th of March 2018 after outshining the other nine finalists with his two-course meal created with an 11 year old school pupil in mind.
Representing the east of England, Goulston served a main course of oven-baked Southern crumbed chicken with herb mousseline, gnocchi and vegetables, and coconut cheesecake with pineapple and strawberry compote and tuille biscuit for dessert.
He said: "I am so proud to have won the national title. With the standard and skill level amongst this year's finalists being so high, I felt it was an achievement in itself just getting through to the national final, let alone being able to compete with such a talented group of people. 
"All of this just goes to prove what a good job school chef's do day in, day out, up and down the country, in providing tasty, nutritious meals for millions of children.
"I am fortunate to be part of a great team within Hertfordshire Catering Ltd (HCL), all of whom have supported me throughout the competition. I hope that this amazing achievement will also serve to reassure parents everywhere about the high quality of school food and how well balanced and tasty the meals we provide are, not only in Peartree Spring Primary School but across the length and breadth of the country. 
"My employer HCL, who are the school meal provider for Hertfordshire, my school, my colleagues and the pupils for whom I cook, are all absolutely thrilled and honoured by this success. I am looking forward to an exciting year as the new LACA School Chef of the Year 2018."
Assessed on their preparation, cooking, creativity and presentation skills, each contestant had just £1.30 to spend and 1.5 hours to serve their two-course meal, which had to appeal to 11 year old school pupils, comply with School Food Standards and the Eat Well Guide 2016.
Judges also "wanted to see evidence of locally sourced ingredients and the use of sustainable products," as well as ingredients from sponsor MAGGI Professional from Nestlé Professional.
The panel comprised: Chair Justin Clarke, food development chef for MAGGI at Nestlé Professional; Jacqui Webb, LACA; chef guest judge and fellow Craft Guild of Chefs, Wayne Child; Carol Harwood, education catering consultant; Beth Hooper, Nestlé Professional nutrition manager; LACA 2017 School Chef of the Year winner, Tracy Healy; as well as two pupils from a Stratford upon Avon school.
The final, which took place at Stratford upon Avon College yesterday, also saw Justyna Rutkowska from Warrington awarded second place and Abdul Mahdoul, from Newcastle upon Tyne, third place.
LACA national chair, Tim Blowers, said: "My congratulations go to Michael Goulston. His success in taking the national title is a major achievement given the exceptional culinary skills shown by all of this year's competitors.
"LACA School Chef of the Year is an excellent way of showing why all schools nationwide should be striving for a high quality school meals service. It's a snapshot of the passion and expertise of today's school chefs and of the commitment and professionalism they put into producing high quality meals every single day in schools across the country.
"School meals play a pivotal role in laying the foundations for children's future eating habits and their long term health. Not only do our front line chefs prepare tasty and imaginative dishes to tempt discerning taste buds but also nutritious meals that can make a major contribution towards altering eating habits and establishing balanced diets. 
"Offering healthy choices in school and increasing awareness of dietary factors such as sugar intake and its impact on dental health, will not only help to establish healthier lifestyles and reduce obesity levels but also allow children and young people to achieve more both academically and physically". 
Nestlé Professional savoury food manager Charlotte Ponti added: "Congratulations to all the school chefs who participated this year's LACA  School Chef of the Year and for their dedication to providing our nation's children with nutritious, tasty meals every day.
"I've been very impressed by this year's contestants and extend my congratulations to Michael Goulston. I wish him the very best for the future."
Details of the 2019 compettiton will be available from the begiining of July 2018.
The video below includes many of the day's highlights, including the winner announcement: