CATERed 'feeds ambitions' with free kids lunches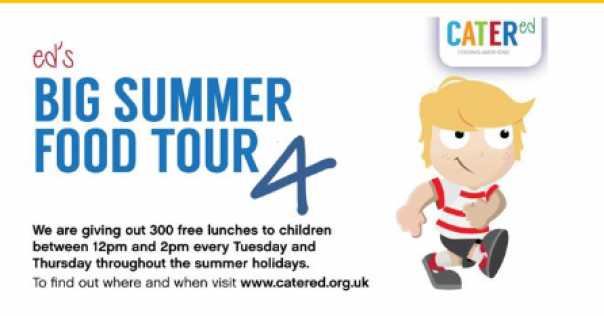 31 Jul 2018
Plymouth-based school meal provider CATERed is handing out free lunches to children across the city this summer, as part of its annual 'Big Summer Food Tour.'
A not-for-profit organisation, CATERed will be providing children with free bagged lunches in a bid to 'feed ambitions' and children have 'full stomachs and the energy needed to achieve in life.'
Kicking off today (31 July), the initiative is now in its fourth year and is expected to be 'even bigger' than before.
Commercial operations manager Anne-Marie Sowden explained: "The Big Summer Food Tour will help to make sure that some children who would normally receive free school meals aren't missing out when school's out.
"It's CATERed's way of making sure children don't go hungry in the holidays.
"Last year we had children waiting for us to arrive. There's a real need for us to support low-income families through the summer holidays. It's an expensive time and the thought of children going hungry in today's society because family budgets are so stretched motivates us to do what we can to help.
"Our staff feel incredibly passionate about looking out for the city's children, who they see every day during term time.
"We plan to give out over 300 bagged lunches on each of our tour dates on a first come, first served basis."
As well as adding more locations for 2018, the company has once again teamed up with the council's Library Service to provide 'Lunch at the Library' at each of the city's 12 libraries.

Taking place every Wednesday throughout August, children will also have access to books, IT, activities and the 'Summer Reading Challenge.'
Radio Plymouth's lighthouse crew will also be on hand to offer free face painting throughout.
'Big Summer Food Tour#4' dates and venues:
31 July – Central Park Play Park
2 August – Jennycliff Green   
7 August – Devonport Park           
9 August – Ridgeway Shopping Centre (Co-op) 
14 August – Mount Wise play park
16 August – Guildhall pond            
21 August – Beechwood Primary Academy      
23 August – The Beacon   
28 August – Freedom Fields Park          
31 August – Central Park Play Park 
Brad Pearce, CATERed managing director, concluded: "Providing extra meals during the school holidays can be a struggle for many families and there is evidence that the city's food banks experience a peak during this time.
"Our food tour is about helping families in a relaxed and fun way.
"Staff volunteer to prepare and hand out the lunches made with ingredients provided free of charge by our local and regional suppliers.
"We'd like to thank Tamar Fresh, Scorse, Bidfood UK, Bunzl and Pasta King for providing all the food again this year, and our amazing staff who have given up some of their summer holiday for the tour.

"It's a fantastic team effort and by joining together in true cooperative spirit we can provide even more children with a free delicious healthy lunch this summer."
For more information, visit: http://web.plymouth.gov.uk/ed_s_bsft_4.pdf.