Deadline approaching for LACA Awards for Excellence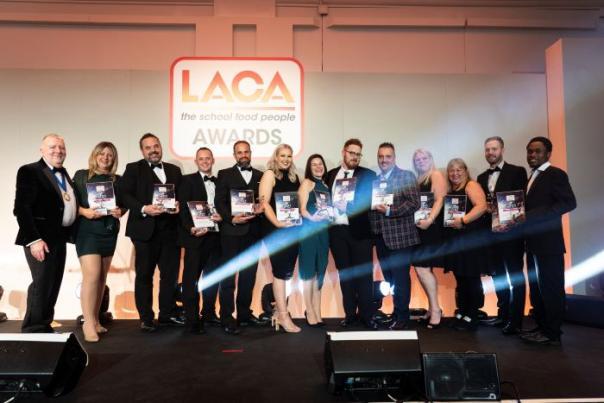 26 Apr 2022
The LACA Awards for Excellence, which recognise individuals and teams who continue to make a real difference in education catering, will close on Friday 29 April 2022.
Being nominated for a LACA award gives a sense of prestige and honour at a personal level and raises the professional reputation of the organisation or school employing award winners. The LACA Awards night will take place on Thursday 7 July at the Hilton Birmingham Metropole during the LACA Main Event.
The 11 categories available for nomination include:
LACA Apprentice/Trainee Award

LACA Catering Business of the Year Award - UPDATED FOR 2022 (sponsored by Rational)

LACA Primary School Catering Team of the Year Award (sponsored by Middleton Foods)

LACA Secondary School Catering Team of the Year Award (sponsored by Bidfood)

LACA 'Green' Menu and Marketing Award (sponsored by Elygra)

Arnold's Award

The Nan Berger Memorial Award

The Roger Davis Outstanding Achievement Award (sponsored by Hobart)

LACA Unsung Hero Award

LACA Region of the Year Award

LACA Outstanding Supplier of the Year Award (sponsored by Civica)
Jacquie Blake, chair of LACA, commented: "This a great way to take the opportunity to celebrate all the amazing work that has been achieved and the motivation and inspiration, that both individuals and your team will receive from being nominated, will have a big impact. I look forward to seeing your entries in the coming weeks and to celebrating the successes at our Awards dinner in July."
Good management, strong performances and high achievements deserve to be recognised and it is particularly important to not only reward but sustain motivation. LACA extends its thanks to all the award sponsors for their much appreciated support and for their ongoing commitment to recognising the exceptional endeavours of all of our nominees.
The 2021 LACA Award winners included: Kirklees School Catering Service, Arley Primary School (Educaterers Ltd), Northampton Academy (Caterlink), Nottingham Catering (Nottingham City Council), Caerphilly Catering Team (Caerphilly CBC) Michael Hales (Juniper Ventures), Jovaras Rinkevicius (Derbyshire County Council Catering), Pawel Micinski (BAM FM), Chartwells Nutrition Team and Bidfood.
Bookings are now being taken for the LACA Main Event 2022 with an early bird rate available for members on bookings placed before Friday 29 April.