Final chance to enter Eat Them To Defeat Them Caterers' Challenge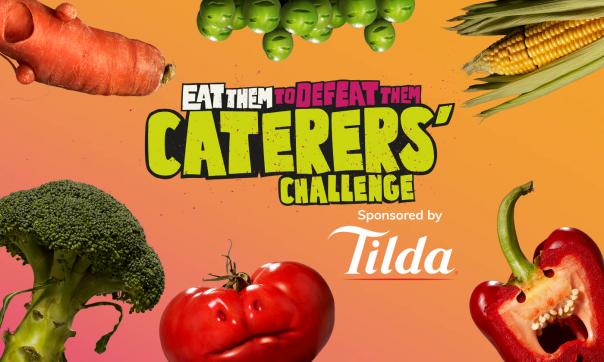 26 Apr 2022
Entries to the Eat Them To Defeat Them Caterers' Challenge, which asks school catering teams to lay on spreads of vegetable tasters, will close on Saturday 30th April 2022.
These spreads make the veg the hero of lunch and create a perfect opportunity for kids to give them a taste. The judges will be looking for creativity, engagement and taste.  
Prue Leith said: "School cooks and chefs have an absolutely vital role to play. You could be the change agent that improves the diet of hundreds of children for life."
How to enter:
Capture your vegetable displays on video or pictures

Head to: EatThemToDefeatThem.com

Tell us how you made it creative, engaging and tasty.

Upload pictures and videos

Plus you can also add your entry to the Tilda Challenge
This year will also feature the Tilda Challenge asking school chefs to create a dish that shows the perfect balance of veg and rice. The winning recipe will appear alongside Jamie Oliver, Sir Paul McCartney, Marcus Rashford and dozens of other famous chefs on Veg Power's recipe site and be sent to thousands of families to try at home.
Annette Coggins, head of foodservice at Tilda UK, added: "As the official sponsor of the Caterers' Challenge 2022 we want to recognise all these fantastic efforts and celebrate our school caterer heroes. With your help, Veg Power with ITV will be inspiring one million primary pupils to eat more veg, as well as encourage more families to cook together at home too."
School caterers can enter by visiting www.EatThemToDefeatThem.com and uploading a video or photos by the 10th April 2022. All valid entries will be awarded a framed certificate for taking part and supporting the initiative.