Finishing Touches winners revealed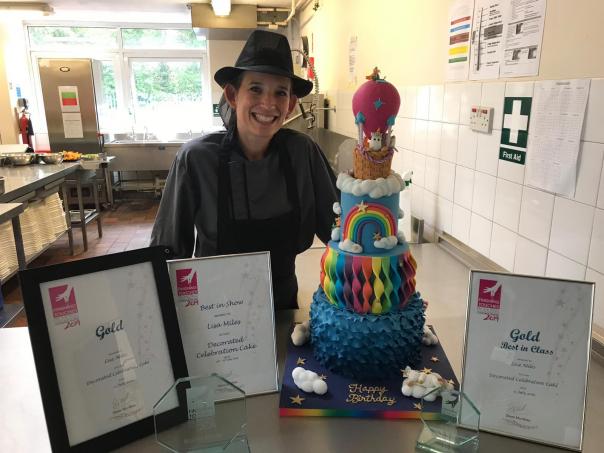 15 Jul 2019
The winners of the annual Finishing Touches competition, held in conjunction with the Craft Guild of Chefs, were revealed at LACA's Main Event held between 10 and 12 July.
Best in show went to Lisa Miles of Hertfordshire catering company, HCL, won best in show with her Decorated Celebration Cake.
The school caterer from Knebworth Primary School was one of six entries from HCL, which won three silvers and six bronzes in the 15 categories.
Her first attempt at Finishing Touches, she won with a three-tier rainbow unicorn cake.
She said: : "I can't believe I won the Best in Show. I am over the moon. The competition was really strong this year with some great cakes on display. I'm absolutely delighted to have won."
The full list of winners are:
Best in Show and Decorated Celebration Cake: Lisa Miles, HCL Ltd
Sculpted or Carved Cake: Helen Merritt, Taylor Shaw
Sweet Macaroons: Johnny Hodges, Surrey Commercial Services
Cheesecake: Danielle Wingfield, Leicestershire County Council
Cupcakes: Josefine Austin, Surrey Commercial Services
Cake for Special Diet: Cathryn Wilson, Taylor Shaw
Decorated Novelty Cake: Donna Osborne
Individual Fruit Tart: Marion Syder, Norse Group
Floral Sugarcraft: Mandy Ratcliffe, Doncaster Schools Catering
50% Fruit Dessert: Abigail Casbierd, Surrey Commerical Services
Biscuits: Anne-Marie Sanders, Caterlink
Chocolate Truffles: Joanna Gaspar, Taylor Shaw
Filled or Covered Sponge: Tracey Robinson, Taylor Shaw
Nikki Barnard: Traybake, Norse Group