Hampshire council catering service wins Food For Life Served Here Award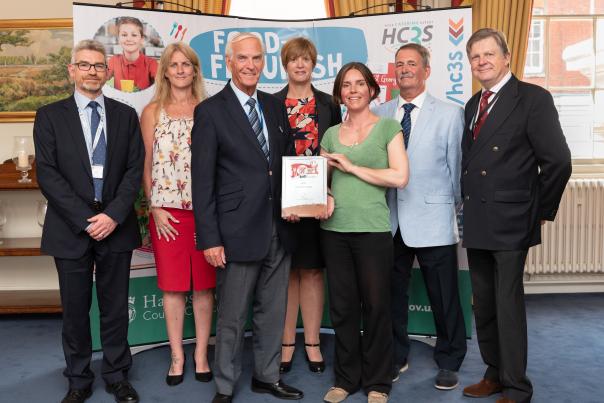 24 May 2018
Hampshire County Council's catering service, HC3S, was presented with a Food For Life Served Here (Bronze) Award on May 22 from the Soil Association.
The Food for Life Served Here Award is an independent award scheme for those serving "local, fresh and honest food cooked by chefs who really care about quality and ingredients".

Hampshire County Council's executive member for economic development, Councillor Mel Kendal, said: "HC3S has a fantastic track record of using fresh and locally sourced ingredients to produce nutritious, high quality food for its customers, which includes 444 primary schools in Hampshire and 21 secondary schools."
Ian Nutt, head of development at Soil Association Food for Life, added: "We are delighted to have awarded Hampshire County Council Catering Services our Bronze Award, recognising that much the food on their school menus is freshly prepared, is always free from undesirable trans fats, sweeteners and additives, is cooked by trained chefs, and uses ingredients from sustainable and ethical sources.

"This is a fantastic achievement validates the hard work and commitment from everyone involved in the County Council's school meal service."
Food for Life Served Here meals can also be found in hospitals, care homes, universities and colleges, as well as workplaces and visitor attractions.