Hampshire school chef scoops SCOTY win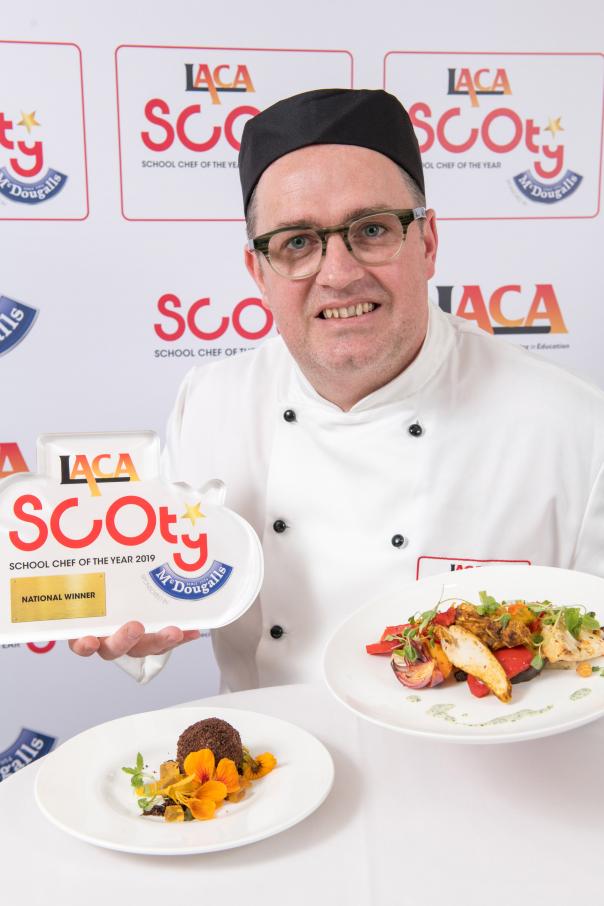 08 Mar 2019
Steven Cross, from Havant, Hampshire, has scooped the national title of LACA School Chef of the Year 2019, sponsored by McDougalls, after the final which took place on 7 March at Stratford Upon Avon College, Warwickshire.
He was one of two wild card entrants awarded a special National Final place nd won with his main course of Rocking Moroccan Chicken (marinated chicken chargrilled and served with homemade Moroccan flatbread and roasted harissa vegetables garnished with mint yoghurt, nasturtium, chilli and min).
His dessert was North African Rose (North African Rosewater and cardamom cheesecake accompanied by bloody orange, chocolate and mint).
Based at Park Community School in Havant, he has been a school chef for five years.
He said: "I am so proud to have won the national title. With the standard and skill level amongst this year's finalists being so high, I felt it was an achievement in itself just getting through to the national final, let alone being able to compete with such a talented group of people.  All of this just goes to prove what a good job school chef's do, day in, day out, up and down the country in providing tasty, nutritious meals for millions of children."
"I am fortunate to be part of a great team within Park Community School, all of whom have supported me throughout the competition.  I hope that this amazing achievement will also serve to reassure parents everywhere about the high quality of school food and how well balanced and tasty the meals we provide are, not at my school but across the length and breadth of the country.  My school, my colleagues and the students for whom I cook, are all absolutely thrilled and honoured by this success.  I am looking forward to an exciting year as the new LACA School Chef of the Year 2019."
The winner of the Second place Award was Matt Betts from The Mill Academy, employed by Barnsley MBC Schools Catering Service, for his dishes of Matt's Marvellous Mackerel Tacos and Strawberry Supermousse with Shortbread Bat Biscuit.
Third place was awarded to Josefine Austin from Beacon Hill Primary School, Hindhead, Surrey, employed by Surrey Commercial Services, for her dishes of Swedish Meatballs and Pineapple Tart. 
In addition to the kudos of winning the national title, Cross received a £1000 cash prize and the LACA 2019 School Chef of the Year trophy. 
He has also won a work experience trip and an invitation to a calendar of high profile catering industry engagements between 2019 - 2020. The national second and third place winners received cash prizes of £500 and £300 respectively.