Hidden Hunger report finds 3m children risk starting school day hungry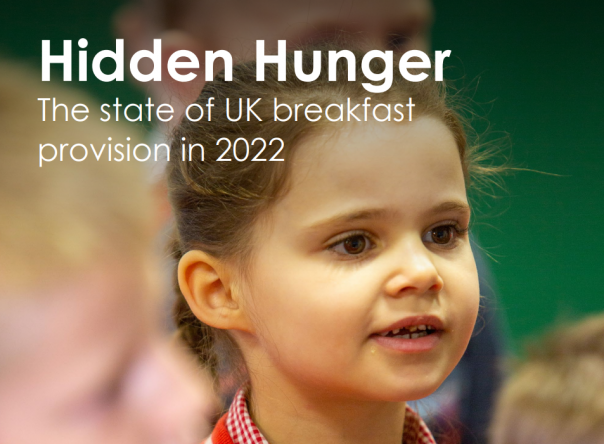 28 Apr 2022
Magic Breakfast has released the largest study of school breakfast provision in the UK to date, exposing a patchwork of provision which fails the most vulnerable.
The Hidden Hunger report used data held by local authorities across the country, via a series of FOI requests, alongside survey data provided directly from schools.
The report details the 'significant gaps' in breakfast provision, which are leading to children starting school too hungry to learn. Morning hunger is leading to increased absence, lower levels of attainment and poor behaviour in the classroom.
The Hidden Hunger report reveals staff and food costs as the biggest barrier to school efforts to end hunger in the classroom. With the spiralling cost of living worsening the situation for both schools and families.
Magic Breakfast is calling for an urgent £75m funding boost for school breakfasts in England, and similar investments from the Scottish Government to level up education and reach those children and young people at risk of hunger. 
Ruth Perry, head of school at Newall Green Primary School in Wythenshawe, Manchester said: "There is a cost-of-living crisis affecting parents and if we didn't have a Magic Breakfast in the morning, some children would be starting class hungry.
"Instead, pupils begin the day with a free, healthy breakfast and are better prepared to learn. My staff and I have seen the difference it can make. But schools can't do this alone, that's why it is so important Boris Johnson and the Department for Education heed this call."
Magic Breakfast's recommendation to Government to urgently boost free school breakfast, help low-income families avert a hunger crisis and level up their children's learning has received support from major food brands, education, and child poverty experts.
Lindsey MacDonald, chief executive at Magic Breakfast, added: "The Hidden Hunger report exposes the lottery of school breakfast funding and provision in the UK and the impact that this has on children's learning and life chances. 
"As pupils struggle to catch up on lost learning and the cost-of-living crisis takes hold, Magic Breakfast is asking the Scottish and UK governments to implement meaningful funding for breakfast food, staffing, and support. This has been proven to drastically improve long term opportunities for future generations and increase the economic health of our nation." 
Read the Hidden Hunger report below.