Inaugural McDougalls Young Baking Team of the Year winners enjoy cookery class with Premier Foods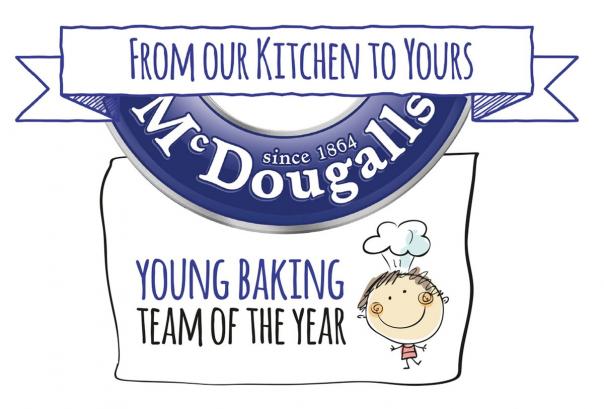 26 Jan 2018
A selection of year 6 pupils from Nene Valley Primary School were treated to a cookery lesson by Premier Foods chefs on 19 January, nearly three years on from when the school was crowned the first winners of the McDougalls Young Baking Team of the Year (McYBT).
The Peterborough primary was awarded the class thanks to their landmark victory at the LACA Main Event in 2015, where they won the annual cooking competiion which sees schools compete in a bake off using their own recipes based around local produce.
Locally-sourced indredients were again on the agenda when Premier Foods chefs Mark Rigby and Louise Wagstaffe visited the school.
The chefs, along with the school's catering manager, Debbie Donnor, helped the pupils create two apple dishes using fruit from one of the school's local suppliers.
Using Cox's apples and McDougalls flour based mixes, each of the ten children made an apple cake and apple flapjack dish.
For the cake, the children cut up apples into small chunks before adding them to a carrot cake mix.
They then picked from a selection of seeds, fruits and spices to add to the mix before tipping their filling into a baking tray before patting it down into shape.
The apples left over were used on the flapjacks, which also incorporated seeds and nuts along with orange juice.
The reaction from the pupils at the end of the class suggests that Nene Valley will enter the 2018 edition of McYBT in a bid to regain their old crown- currently held by last year's winners, Chapter House Preparatory School.
Nene Valley used the £1000 prize money it collected as part of its win in 2015 to equip the specialist food tech room and on ehancing the dining room.
Chef Donnor encouraged schools to get involved with competition and said it gives school chefs the chance to work with pupils rather than being strictly 'just their chef".
She also revealed that since the win, pupils have had more of a say in the school dinners she prepares.
"The children have quite a big impact into what they would like to see on the menu, so I do try to liaise with them," said Donnor.
"The whole school ethos on food is really exciting because a lot of children in here are quite passionate about food so we really do take it on board as a whole school rather than a 'kitchen school'."
This year's McYBT competition has already received as many entries as it did in total last year.
Online entry for schools opened earlier this month with applicants required to submit a team of three 7-11 year-olds to take part. Registration closes on 31 March.
Schools up for the baking challenge can register their interest at www.premierfoodservice.co.uk and will receive a McDougalls toolkit within seven days which will include product samples, an application form and recipe inspiration.
Teams will be asked to create either a sweet or savoury recipe, which includes one local ingredient and one McDougalls Flour Based Mix for submission.
The live final will take place at LACA- The Main Event on 12 July 2018.