LACA announces 2022 Awards for Excellence winners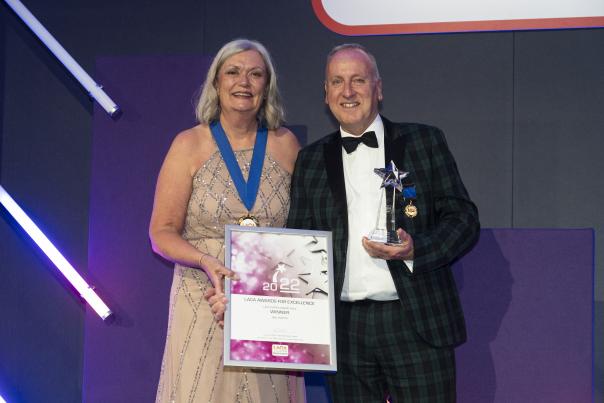 08 Jul 2022
LACA announced the winners of their 2022 Awards for Excellence that aim to celebrate individuals and teams who continue to make a 'real difference' to education catering and school food.


The Chair's Award was given to both Neil Porter chair of the events group/business director at LACA and Lisa Fox assistant operations manager at Nottingham City Council. Elsewhere SchoolGrid were named Outstanding Supplier of the Year, while the East of England region was selected as the Region of the Year.
Endeavour Primary School and the HC3S catering team won the LACA Primary School Team of the Year Award as well as taking home the 2022 Caterers' Challenge, which is part of the 'Eat Them To Defeat Them' campaign run in partnership with ITV.
On the night a charity raffle was held for the Buddy Bag Foundation, which raised £4,400 to help children who are escaping violent situations at home. A Buddy Bag is a backpack that contains all the essential items a child needs such as toiletries, pyjamas and a teddy bear.
LACA chair Jacquie Blake said: "Once again, our LACA Awards for excellence has seen a shortlist of incredible talent. It is an achievement in itself, to make the shortlist, as the submissions this year have been of a really high standard.
"I want to thank all our members and partners for their outstanding work this year, during the continuing challenges we face. To celebrate with the winners and the School Chef of the Year winner, at the Awards for Excellence Dinner, made it a special evening for everyone."
The full list of winners include:
LACA Catering Business of the Year Award, sponsored by Rational: West Sussex County Council
LACA Primary School Team Award, sponsored by Middleton Foods: Endeavour Primary School – HC3S
LACA Secondary Catering Team Award, sponsored by Bidfood: Hamble School Catering Team – HC3S
LACA Marketing and Green Menu Award, sponsored by Elygra:

Derbyshire Catering Service Marketing Team

Nan Berger Memorial Award, sponsored by Cereal Partners: Chartwells Medical Diets Team
Roger Davies Outstanding Achievement Award, sponsored by Hobart: Kate Evans – Derbyshire County Council
LACA Unsung Hero Award, sponsored by Civica: Karen Talbot – Stockton Borough Council
Arnold's Award: Derbyshire Catering Service Marketing Team
LACA Outstanding Supplier Award: SchoolGrid
LACA Region of the Year Award: East of England Region
LACA Chair's Award: Neil Porter and Lisa Fox