Last chance to register and become next School Chef of the Year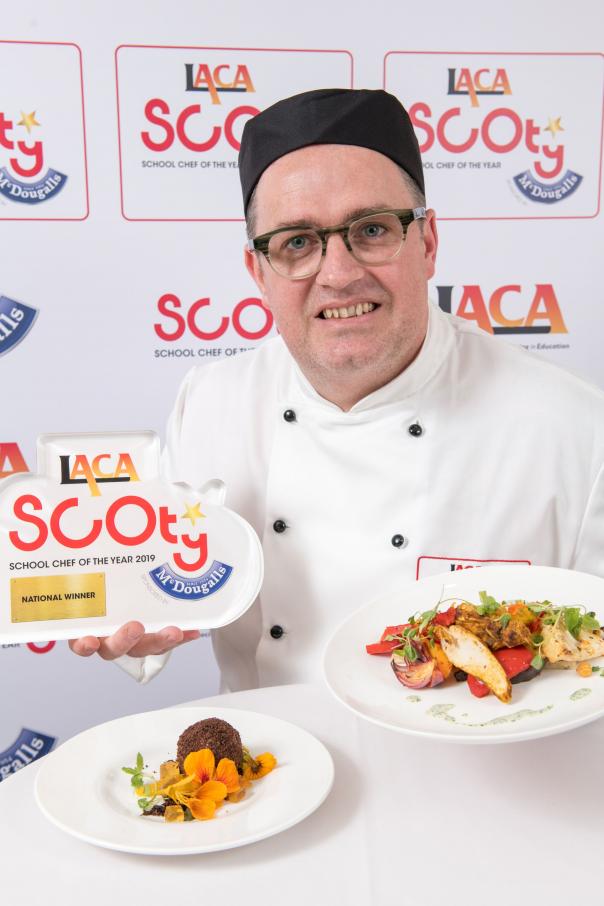 24 Sep 2019
It is your last chance to register and be within the chance to become LACA's next School Chef of the Year (SCOTY) sponsored by McDougalls before registration closes on Friday (27 September).
School chefs nationwide are being invited to showcase their culinary skills and to set their sights on scooping the 2020 trophy.
The competition's focus is on school chefs producing healthy, nutritious meals for 11 year olds in primary or secondary schools. The 2020 competition is open to all staff that hold a kitchen based post and who are involved in the daily preparation of pupil's meals at the time of entry.
Entries may be submitted by any school meal provider whether local authority, contract caterer, academy or free school.
LACA chair, Stephen Forster said: "We are delighted that our partnership with McDougalls is continuing for a second year following a highly successful 2019 competition which saw only our second male school chef win in its history. 
LACA's annual initiative is a revealing window into the world of school catering. As our 2019 national finalists and ultimate champion demonstrated, there is an extraordinary level of talent in our school kitchens. So come on school caterers, let's showcase that now - enter your star for 2020!"
Competitors have 90 minutes to prepare, cook and present four portions each of a two course imaginative meal suitable for serving en masse in school. The meal must comply with School Food Standards and take into account the East Well Guide 2016.  The food cost for one main course and dessert must not exceed £1.30 and a minimum of one different McDougalls product is required in each.
Sarah Robb, channel marketing manager at Premier Foods, added: "It's a really exciting time for us at Premier Foods as we enter the second year of McDougalls' sponsorship of the LACA School Chef of the Year competition.
"We were so impressed with the calibre of entries from last year's competition and the chefs' dedication to creating incredible school meals for their pupils on a regular basis, and we can't wait to see more creativity this year.
"Our McDougalls range is so versatile and includes easy to use bases for both sweet and savoury dishes, allowing school chefs to get their creative juices flowing when developing their school com-pliant entries for the competition. We're looking forward to tasting the dishes created this year which will no doubt help showcase what a great industry school catering is to work in."
Registrations must be submitted by 27 September 2019 with submission of formal entries required by 16 October 2019. 
Successful candidates from the first round of judging at the end of October will go forward to participate in the ten live regional finals which will be held in five different locations around Britain between November 2019 – January 2020 with the national final taking place in March 2020. Two national final wild card places will, once again, be offered after the regional heats have been completed.
Regional final winners will each receive a £100 cash prize.  At the national final, the 2020 national winner will receive a £1000 cash prize, the 2020 LACA School Chef of the Year trophy, an invitation to a calendar of catering industry events and a work experience trip.  The national second and third place winners will receive £500 and £300 respectively.