North West school chef wins LACA School Chef of the Year 2020 crown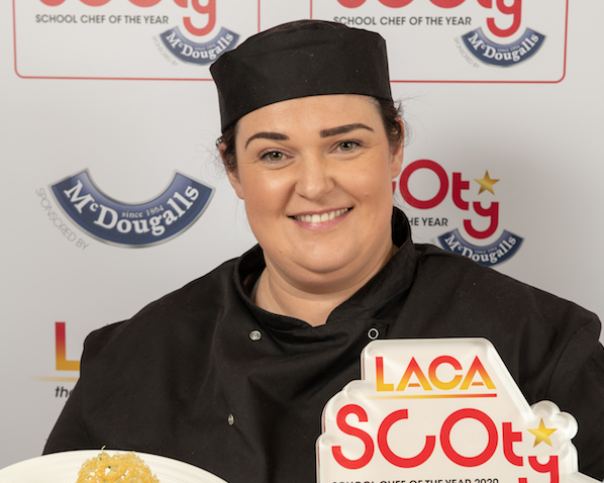 06 Mar 2020
Holly Charnock from Liverpool has won this year's national SCOTY title, for her two-course meal, which was presented at Stratford-upon-Avon College, in Warwickshire.
The LACA organised competition sponsored by McDougalls is a chance for school chefs to showcase their professional skills, in front of a panel of judges. Ten regional champions and two additional 'wild cards', battled against one another for the title. 
Each chef had a maximum of £1.30 to spend and 90 minutes to prepare an imaginative, 'school compliant' two-course meal. The dishes needed to include at least one McDougalls' product each and be suitable for serving en masse in school to 11-year-olds. 
Charnock, employed by Sefton Catering Services and chef in charge at Woodlands Primary School, said: "I am so proud to have won the national title. With the standard and skill level amongst this year's finalists being so high, I felt it was an achievement in itself just getting through to the national final, let alone being able to compete with such a talented group of people. 
"All of this just goes to prove what a good job school chef's do, day in, day out, up and down the country in providing tasty, nutritious meals for millions of children. 
"I hope that this amazing achievement will also serve to reassure parents everywhere about the high quality of school food and how well balanced and tasty the meals we provide are, not only at Woodlands Primary School in Formby but across the length and breadth of the country."
The winning dishes included a main course of braised beef tortellini on a bed of soya bean and spinach, a tomato and basil sauce, balsamic reduction and parmesan crisp, and for dessert a chocolate and beetroot brownie, served with banana ice cream, crumble and a raspberry and vanilla coulis. 
LACA national chair, Stephen Forster added: "My congratulations go to Holly Charnock. Her success in taking the national title is a major achievement given the extraordinary culinary creativity and skills shown by all of this year's competitors. 
"LACA School Chef of the Year is a snapshot of the passion and professionalism of today's school chefs. Working at the frontline of school catering, all have first-hand experience of the challenges of feeding both children and young people."
The School Chef of the Year 2020 judging panel included: chair of the panel Mark Rigby executive chef of premier foods, an independent catering industry professional guest chef, Sharon Armstrong the education catering expert from LACA, Steven Cross SCOTY 2019 winner and 2019 McDougalls Young Baking Team of the Year finalists Joseph Rickwood, Oliver Stokes and Sophie Ellis. 
In addition to now holding the SCOTY 2020 title, the champion will receive a £1,000 cash prize, a trophy, a work experience trip and an invitation to a calendar of high profile catering industry engagements for 2020-2021. 
Second runner up from Chartwells Lewisham, London region was Raheem Morgan and third place was Cheryl Humphries from ISS Education in the South East region.