NSMW 2019 hailed as 'a great success'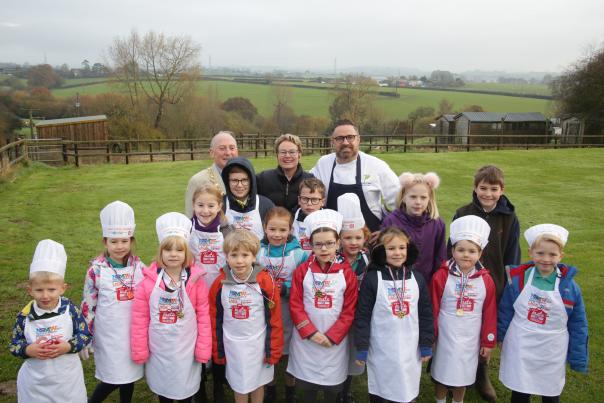 05 Dec 2019
LACA has hailed National School Meals Week (NSMW) 2019 as 'a great success'.
2019 marked 30 years since the formation of LACA, the School Food People, and during that time the organisation has worked hard to promote the benefits, values and nutritional factors in today's school food. 
During National School Meals Week 2019 this milestone was marked and LACA had a menu of activities that offered everyone in education catering the opportunity to get involved during the week and in some cases beyond. 
During the week LACA's 'Taste for Yourself' campaign visited all ten LACA regions where they met parents, journalists, dignitaries and the public at large, encouraging them to 'taste for themselves' modern day school food. 
At each stop, a different message was highlighted, for example, school caterers adapting menus for the increase in vegan diets, the move towards the use of certified sustainable palm oil, the importance of dairy in the school meals menu, how the industry supports local farmers/the local economy and of course is working extremely hard to ensure pupils with food allergies can be safely catered for in school. 
To mark its 30th anniversary, LACA also ran a '#30 School Meals Heroes' campaign where weekly, they paid tribute to many of the heroes of the education catering industry. As each week passed, another piece of the jigsaw was completed, the final jigsaw demonstrating the broad range of individuals that contribute to make LACA the voice of the industry.
There was also the 'Taste for Yourself' initiative, which encouraged non or occasional users of the school meals service, to see for themselves just how good today's school meals are. For older pupils, often the barrier is misconceptions and LACA were keen to make sure pupils know what variety and choice is on offer to them. Resources were made available in English and Welsh for schools to promote 'Taste for Yourself' during NSMW (and beyond) and were free to download from the resources page. 
LACA chair Stephen Forster also launched the 'Move it with LACA' campaign during NSMW, tied in with the 'daily mile'. LACA want pupils to walk a Million miles over the next 12 months. Healthy eating and healthy living go hand in hand and school meals help provide the fuel that the body needs to enjoy regular exercise. Forster took the lead by walking a mile with pupils at s local school where he is a Governor and Conservative Party PPC for Havant, Alan Mak, helped with the wider launch when visiting Park Community School, base for SCOTY winner Steven Cross.
Many caterers also invited their local prospective MPs to lunch. It is important MP's know just how good today's school food is and how important it is in terms of health and wellbeing, for children to have a nutritious, two course lunch in the middle of the school day. Many schools also invited local politicians and dignitaries e.g. the local Mayor to join them for lunch and put across the important messages about school meals.
On Wednesday 13 November, Roast Dinner Day also brought people of different generations together over one of the nation's favourite meals; the great roast dinner! Roast Dinner Day 2019 is the first event in the calendar of the newly-launched Food for Life Get Togethers programme. Funded by a grant from the National Lottery Community Fund, Food for Life Get Togethers uses the power of good food to bring people of different generations together. The focus is on making people happier and healthier using good food, bringing communities together, and promoting a healthy relationship with food for kids.
LACA Chair of Events Neil Porter said: "There is no doubt that LACA's NSMW goes from strength to strength with more and more members participating each year and many embracing a number of the activities on offer. It was also rewarding to see the enthusiasm in so many of the regions (despite the at times horrendous weather conditions) when the tour arrived. 
"It was also good to see so many parliamentary candidates and local dignitaries attending our events, keeping school meals high on the political agenda. Every year we say to ourselves 'how are we going to follow that?' but every year we do and LACA will continue to work hard to make sure NSMW continues to be such a strong platform for great school lunch messages".