Peterborough school chef scoops 2021 SCOTY crown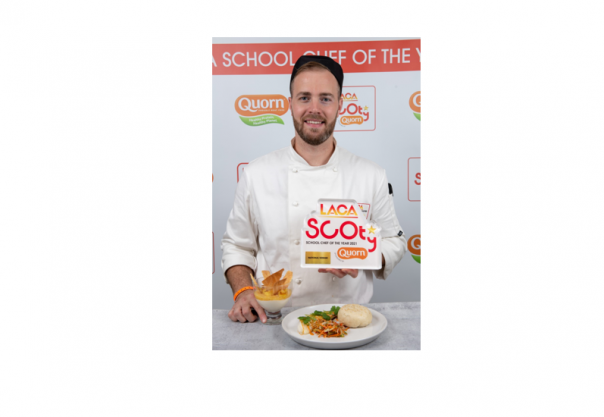 14 Oct 2021
Rob Chambers from Hampton College (IFG Cucina) was crowned the LACA School Chef of the Year (SCOTY) winner after competing in the national final, which took place during the LACA Main Event.
Eleven of Britain's top school chefs from the very north and south of Britain- from the Orkney Islands to the Isle of Wight competed for the 2021 SCOTY crown in what was a fiercely fought cook-off.
Organised by LACA – The School Food People and sponsored by Quorn Professionals, School Chef of the Year is the education catering sector's premier culinary skills competition.
Competitors had to prepare, cook and present four portions each of a two course imaginative meal suitable for serving en masse to 11-year-olds in primary or secondary schools. The school chefs had to include Quorn as the protein element of the main course together with a dessert based on 50% fruit content.
The SCOTY competition aims to show the high quality of school meals and the contribution they make to the health and wellbeing of children.
Chambers winning menu included:
Main Course: Aromatic steamed Bao bun, sriracha glazed Chinese cabbage, Asian salad with a soy and chilli dressing.

Dessert: Coconut and lemongrass panna cotta, pineapple compote, charred pineapple with coconut tuile.
On winning the national title of LACA School Chef of the Year 2021, Chambers said: "I am absolutely thrilled and proud to have won the national title. With the standard and skill level amongst this year's finalists being so high, it was an honour to have competed with such a talented group of people. I am looking forward to an exciting year as the new LACA School Chef of the Year national champion."
In addition to the kudos of winning the national title, the 2021 champion received a £1,000 cash prize and the LACA 2021 School Chef of the Year trophy. Chambers also won a work experience trip and an invitation to a calendar of high profile catering industry engagements.
The national second and third place winners received cash prizes of £500 and £300 respectively. Raheem Morgan from Torridon Primary School (Chartwells Lewisham) finished second and in third place was Rob Finch from Budmouth Academy (IFG Cucina).
Immediate past chair of LACA Stephen Forster commented: "My congratulations go to Rob Chambers. Over the 20 years since this competition began, it has evolved to reflect both school food standards and food trends. Our partnership this year with Quorn reflects the current shift to reduce the amount of meat in our diet which is also emerging as a major feature of school menus.
"As children and young people become more environment and healthier eating aware, they are demanding more meat-free choices on their school menus. Our link with Quorn has allowed our amazing school chefs to respond to this trend whilst showing off their culinary expertise which all of our competitors have done in abundance at this year's national final."
Chair of the School Chef of the Year 2021 Judging Panel was Kate Snow, senior home economist at Quorn Professionals. Joining Snow on the panel at the 2021 national final was an independent catering industry professional guest chef (Stuart Brereton, MKN UK) an education catering expert (Sharon Armstrong, LACA) and the reigning LACA School Chef of the Year 2020, Holly Charnock from Formby, Liverpool.
Phil Thornborrow, foodservice director at Quorn Professionals, added: "Rob Chambers is a worthy winner and we offer him our warmest congratulations. Meat free is high on the agenda at the moment and we, at Quorn, have been trailblazing its development for over 40 years.
"The education sector in particular is embracing a more flexible approach to meat consumption, driven by rising concerns over childhood obesity and younger generations leading the fight against climate change.
"We want to inspire future generations to eat healthily and establish sustainable eating habits by educating them on how their food choices can be both good for their health and the planet. We have been thrilled to see the amazing creativity of school chefs using Quorn. Well done to all of the competitors in School Chef of the Year 2021."