PHE launches obesity and fast food 'hot spots' map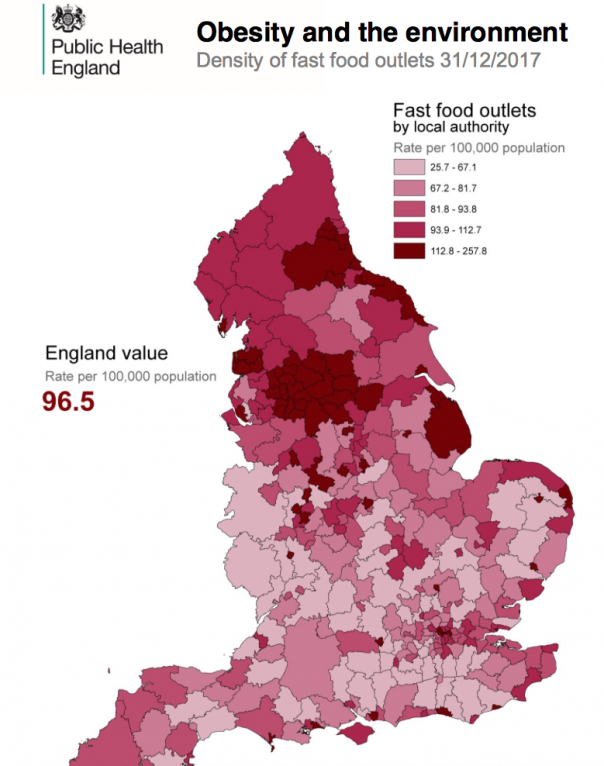 29 Jun 2018
Public Health England has published map, area deprivation chart and data tables showing the density of fast food outlets in England, by local authority and ward.
Under the rubric 'Obesity and the Environment' the map shows that in England there are on average 96.5 fast food outlets for every 100,000 people.
This figure, though, includes areas such as Worcestershire, Gloucestershire, Sussex and Hampshire where there can be as few as 26, along with Greater Manchester, Merseyside and Tyneside where this rises to as many as 232.
In a commentary to accompany the data, PHE says: "In this analysis 'fast food' refers to energy dense food that is available quickly, therefore it covers a range of outlets that include, but are not limited to, burger bars, kebab and chicken shops, chip shops and pizza outlets.
"There is a growing body of evidence on the association between exposure to fast food outlets and obesity, although some studies show mixed results.
"However, there is strong evidence linking the availability of fast food outlets and increasing level of area deprivation."
You can access the full report here:
https://assets.publishing.service.gov.uk/government/uploads/system/uploads/attachment_data/file/720058/Fast_Food_map.pdf