Scottish pupils win big at national Craft Butchers Awards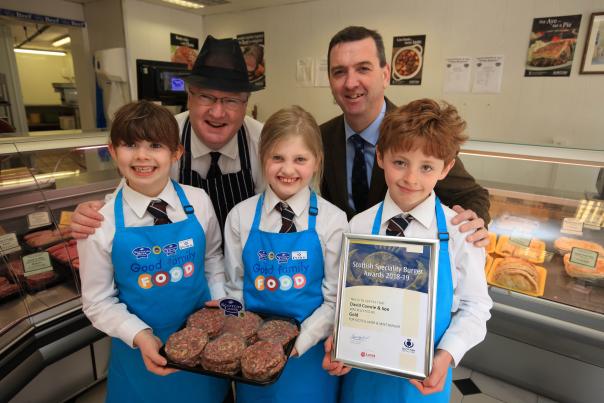 26 Apr 2018
A burger created by primary four students at Morrison's Academy (Scotland) in partnership with local butcher, David Comrie and Son, has won a gold award in the Scottish Craft Butchers Awards last week (19 April).
The partnership was set up to "interact with children and young people to educate them on where the food on their plate comes from, and how products such as sausages and burgers are created."
As such, the 7-8 year old pupils were challenged to develop a burger recipe inspired by Alexander McCall Smith's novel, 'The Perfect Hamburger,' and create promotional packaging, a poster and short promotional video.
With the guidance of David Comrie & Son butcher, Murray Lauchlan, throughout, the final product – a Scotch lamb and mint burger - was submitted into the Speciality Burger category.
Taking home a gold award, Lauchlan said he was "thrilled to work with the children on the project."
He added: "All of the new burgers – (the company also took home a gold award for its Scotch beef and haggis burger and a silver award for its pork and black pudding burger) - are now on sale.
"Customer comments have so far ranged from 'simply delicious' to 'absolutely wonderful.'"
A member of the Scotch Butchers Club (run by Quality Meat Scotland), the company prides itself on "innovation and community spirit" and "continuously strives to develop processes, test new recipes and create innovative products."
QMS health and education manager, Jennifer Robertson, praised the initiative, saying it "was an excellent opportunity for Scottish pupils to show off their imagination and creativity, and learn more about Scottish red meat production. Well done to the pupils and to the team at David Comrie butchers!"
As well as developing the students's teamwork and leadership, listening and presenting, problem solving and creativity skills, Morven Bulloch, head of primary at Morrison's Academy, said: "Mr Lauchlan guided and assisted the pupils in running their own business and making their own burgers.
"To win gold is an amazing achievement. We are looking forward to celebrating this success by holding our own BBQ, to allow the school community to sample the delights of primary four's hard work."