SCOTY 2018 final line-up completed as North West crowns winner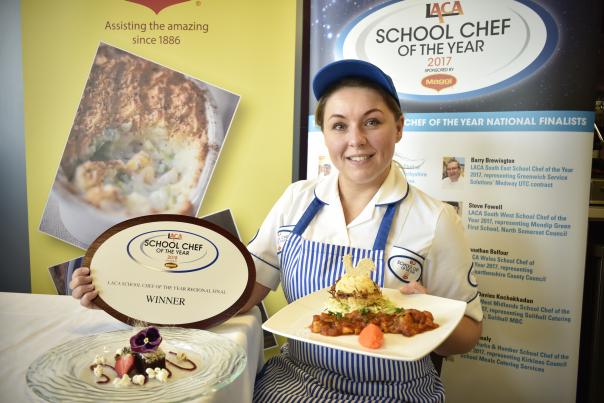 31 Jan 2018
The line-up for this year's LACA School Chef of the Year (SCOTY) competition is now complete after the North West crowned Justyna Rutkowska from Birchwood CofE Primary School its regional champ.

Rutkowska (above left), who works for Warrington Borough Council School Meals, impressed judges with her 'cluck cluck chicken stew' main and 'chocolate munch crunch' dessert.
The cluck cluck stew incorporated chicken in a rich tomato and tarragon sauce, along with tatties and neeps nest, and creamed carrots.
Her dessert was made up of a chocolate and coconut brownie with crunchy Cheerio topping and raspberry coulis.
Rose Rawcliffe from Morecambe Bay Primary School, came runner-up in the heat.
Rutkowska now progresses to the SCOTY 2018 final, sponsored by Maggi from Nestlé, which takes place on 8 March at Stratford Upon Avon College.
The SCOTY 2018 final line-up is as follows-
Ouafa Bahloul (South East)
Michelle Creed (London)
Tracey Ford (South West)
Michael Goulston (East of England)
Abdul Mahdoul (North East & Scotland)
Tanya Malone (West Midlands)
Amanda Phillips (Yorks & Humberside)
Justyna Rutkowska (North West)
Leanne Rees-Sheppard (Wales)
Donna Spiers (East Midlands)