Update on National School Meal Week celebrations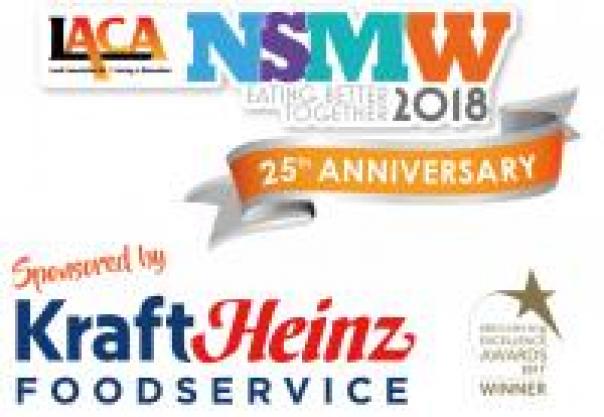 26 Sep 2018
It is full steam ahead for the National School Meal Week (NSMW) silver jubilee celebrations with opportunities for everyone to get involved, including a road trip, a visit to Westminster and a cake fit for a (future) king.
LACA chair of events, Neil Porter, said: "Clearly this is a very special year for everyone involved with LACA as we celebrate a significant landmark for what has become one of our flagship events.
"The industry has evolved and changed so much in the past 25 years and LACA has been at the heart of these developments by leading and innovating. NSMW bears great testament to that and the response from members to our silver jubilee programme of activity has been absolutely outstanding.
"There is such a variety of events and our members are embracing them fully, involving everyone from pupils, parents, teaching staff and our marvellous catering staff, who daily produce over 3 million meals a day in 22,000+ schools across England and Wales.
"With just a few weeks to go, the excitement is building and all concerned are confident that this is going to be the biggest and best celebration of National School Meal Week ever."
NSMW on the Road
Following the success of the 2017 Marathon tour, LACA are once again taking NSMW on the road and visiting all ten LACA regions to fully engage with members.
Last year's 'Powered by School Meals' strapline was very much about how school meals 'energised' its customers; however a nutritious school meal at lunchtime 'Powers' so much more.
The five important powered by school meals messages, which it will take out to each region, are; education, concentration, attainment, energy and nutrition.
It will be engaging with pupils the length and breadth of the country with activities that emphasise the positive effects of a healthy nutritious school meal at lunchtime.
The route is planned out and officially launches in the LACA Wales region on Friday 9 November when the NSMW roadshow rolls into Denbighshire.
The roadshow will conclude with a final stop at the LACA Autumn Seminar in the West Midlands region at the Stratford Manor Hotel on Friday 12 November, when the LACA members will be able to test themselves on the activities for the five key messages and celebrate all that is great about school meals.
#Cookeditmyselfie
So popular with school caterers and now in its third year, this activity shows education catering at its best. The camera doesn't lie as the saying goes and LACA has seen some wonderful examples on what food is being served on a daily basis in schools right across England and Wales.
The prize of £500.00 of marketing resources or equipment is going to be hard fought with the entries we have seen so far and this year LACA has an extra incentive to keep the entries rolling in; a trip to London to enjoy afternoon tea for two at the world famous Ritz Hotel awaits the 2018 winner of #cookeditmyselfie!
When you share your photos with LACA, you can also send recipes of the dishes snapped to share with a wider audience and of course you will always be tagged.
The Nation's Favourite School Meal
Look out for the winner, which will be announced very soon!
To celebrate the nation's favourite school meal, LACA is asking every school across England and Wales to include the nation's favourite two course school meal on their menu as part of the NSMW Silver Jubilee celebrations.
A cake fit for a (future) King
It is not just NSMW that has something to celebrate this year; during NSMW -14th   November to be exact - His Royal Highness Prince Charles will celebrate his 70th birthday.
To mark the occasion former LACA Chair and cake maker extraordinaire Carrieanne Bishop, will be producing a cake fit for a (future) King.
Carrieanne will collaborate with 2018 LACA SCOTY Regional winners, including the overall winner Michael Goulston, to make different elements of the cake and demonstrate that school caterers are skilled and knowledgeable individuals, talented enough to bake for royalty!
NSMW returns to Westminster
LACA will make a return to the House of Commons to engage with MP's and Peers as they sample the very best of school meals from a specially designed 25th anniversary menu.
The aptly named Jubilee Room will be the setting on Tuesday 20 November when it finally concludes this year's NSMW and show the politicians what took place around the country as it celebrated the very best in school food.
LACA will again take the opportunity to enforce the message of the importance of a hot nourishing meal in the middle of the day to 'Power' children in all the important areas of their academic and physical development.
National Roast Dinner Day
Everyone loves a roast dinner and they are not just for Sundays either.
Wednesday 14 November is National Roast Dinner day and as always, LACA will be supporting this terrific event during NSMW and it is a great opportunity for schools to invite members of pupils' families into school, to see just how good today's school meals really are and all for less than the price of a cup of coffee on the high street.
For full details of NSMW activities and how you can get involved, visit: http://laca.co.uk/national