Young campaigners call on PM to 'say yes to school food for all'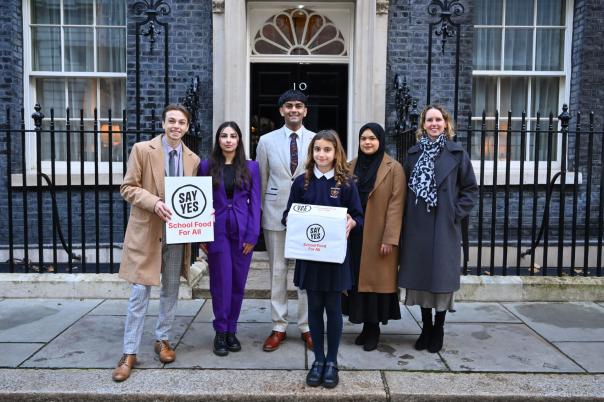 20 Nov 2023
Young campaigners called on Prime Minister Rishi Sunak to 'say yes to school food for all' from the steps of Number 10 Downing Street, as they delivered a map showing cross country support.
Primary schoolchildren from Battersea joined members of the UK Youth Parliament and Children's Food Campaign representatives to show the breadth of support. The issue of expanding free school meals was one of the topics debated at the annual Youth Parliament sitting in the House of Commons on Friday 17th November.
The Children's Food Campaign mapped over 1,200 locations across the UK where there is support for school food for all ranging from members of various political parties, schools, community groups and anti-poverty groups as well as individual members of the public.
Campaigners are calling for a roadmap to deliver free school meals for all, so all children get a nutritious hot meal during their school day. Signatories include: Henry Dimbleby, Tom Kerridge, the Jamie Oliver Group, Sustain, Child Poverty Action Group, School Food Matters, the Food Foundation and the Soil Association.
They point to the growing postcode lottery with more children eligible to receive school meals in London, Scotland and Wales in 2023/24 than in the rest of the nation.
The threshold for entitlement to free school meals remains at £7,400 total household income before benefits, which means 900,000 children living in poverty in England are missing out.
Naema Jannath, from the Children's Food Campaign, commented: "We're delivering our message straight to the front door of Number 10 Downing Street. All the evidence points to healthy and nutritious school meals supporting good learning, allowing children to reach their potential, with benefits that can last a lifetime. It can also help reduce levels of obesity, and lead to long term improved earnings and economic contribution.
"It is completely unfair that we have a postcode lottery of free school meals, which is why we are calling for free school meals for all, regardless of background. It's time for the Government to invest in future generations."