Raheem Morgan wins LACA's School Chef of The Year competition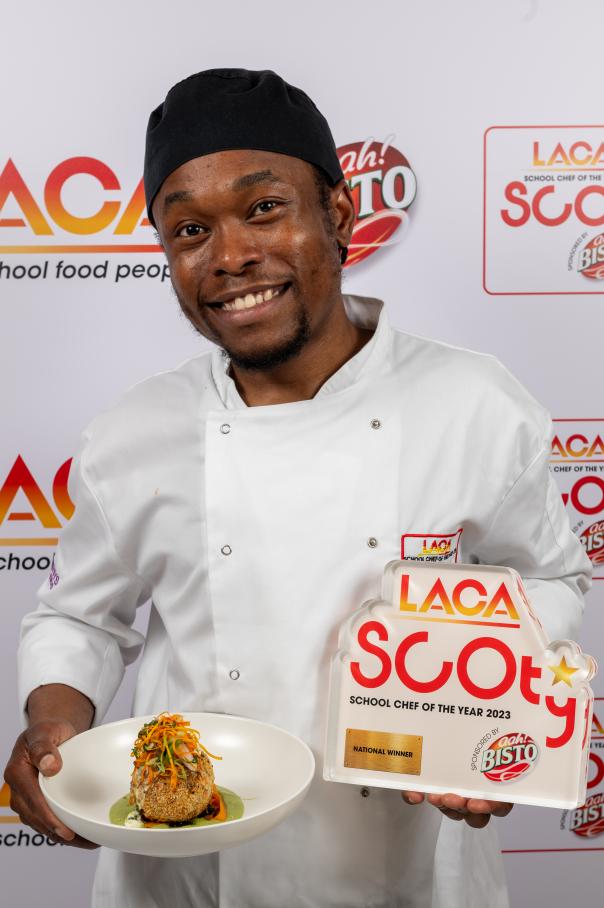 07 Jul 2023
Raheem Morgan won LACA's School Chef of the Year (SCOTY) competition at the fourth attempt after a cook-off at the Main Event.
Sponsored by Bisto from Premier Foods, LACA's School Chef of the Year competition attracts some of the very best school chef talent from across the country. The competition was open to all kitchen-based staff involved in the daily preparation of pupils' meals in schools across the UK, whether from a local authority or contract-catered site, managed in-house, academy school or part of a Multi-Academy Trust.
He cooked an Asian crispy fishcake with edamame bean and miso puree, served with a wasabi mayonnaise and crispy garnish. His dessert was a deconstructed lemon cheesecake with apple and basil gel, apple crisp, cherry compote and egg white meringue.
The dishes have been enjoyed by children at Torridon Primary School, where he has been the unit manager and head chef for two years.
He said: "I try to incorporate spices into the dishes and find that the children are open to trying them – and really enjoy them when they do. They see the teachers eating new flavours in the food I cook for them and do the same – they aren't scared to try. I'm always trying to sneak veg into the main courses to add to the nutrition, but also to desserts too, like beetroot chocolate brownies."
The 29-year-old's love of food started when he was around nine years-old, cooking Jamaican food with his mum, before following it through school in food tech and into hotels. Before coming to school catering, Raheem worked with Tom Aikens, and held positions of commis, demi and parti chef at Hotel Café Royale, Park Plaza Hotel and The Ivy in Sloane Square.  
Raheem was sent details from Chartwells and despite not knowing anything about school catering he applied and by the end of the interview he was convinced that it was the right move.
Speaking about his victory, Raheem commented: "It means the world to win – I'm on cloud nine. I've been used to coming second and third but this year it's me who's won and I'm so happy. I've put so much time and effort into it and so to win is not only great for me but for my brilliant team at school and Chartwells too. Both have supported me with the dish creation, tasting, giving feedback and stepping in while I had time away from school for the competition.  
"I want to thank my team at school, Chartwells who have been amazing but also LACA – I love everything they stand for and the work they are doing in the school catering sector is amazing and hugely important in changing the quality of school food but also the perception – there's no chance of lumpy custard anymore.
"The competition has helped me to grow so much and it will springboard me as it did last year when I won the Grab 'n' Go. After that, we held cookery workshops for the kids and they really enjoyed making the food and trying it all out."
He plans to spend some of the £1,000 winnings on taking his school team out to say thank you for their help.
Head judge Louise Wagstaffe from Premier Foods, said: "It's been a tough year to judge because we've seen amazing standards and very high level skills. We've seen a great use of ingredients on a tight budget and it's been lovely to see so many different dishes created from the same ingredients from the Bisto brand, with each chef's own inspiration and influences in their design.
"Lots of healthy fruit and vegetables have been used – a healthy plate is a part of the judging criteria. These chefs have a massive influence on the food out children are eating and to see such great tasting food full of nutrition and innovation has been brilliant. There are some fantastic, scalable ideas here which we will be sharing with our schools."
The SCOTY competition aims to show the high quality of school meals and the contribution they make to the health and wellbeing of children.
The 11 finalists, who had competed at regional heats across the country, were judged on the use of Premier Foods products, working practices in the kitchen, creativity, appearance, taste and flavour. They had just one hour 30 minutes to create four portions of their two-course menu.
Jennifer Brown from Sarum Academy (Academy, part of Atalian Servest) finished in second place and wildcard James Noakes from Maidstone Grammar School (Impact Food Group) came third place.
Sarah Robb, foodservice marketing manager at Premier Foods, added: "It's so important to support the education catering industry which is what this competition is all about – showcasing the amazing talent in the industry – our chefs have been cooking amazing food.
"School meals are so important for children to eat and socialise together, but also to try different foods together. School chefs have so much influence on the children they cook for to show them new food, give them the opportunity to try new flavours and really understand nutrition and healthy eating."
REGISTRATION FOR THE LACA SCHOOL CHEF OF THE YEAR COMPETITION 2024 IS NOW OPEN!