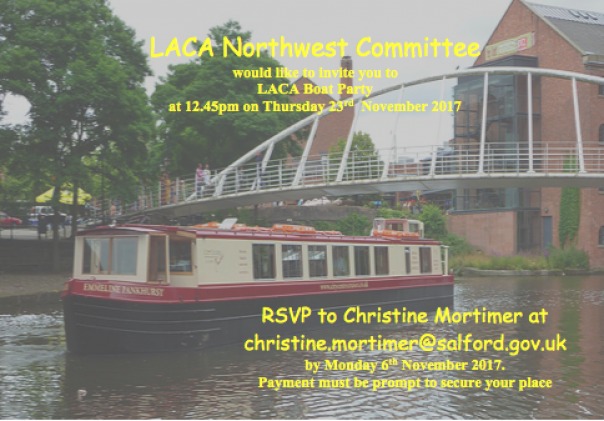 Liverpool Road
Castlefield
Manchester
M3 4JR
Great Britain
23 Nov 2017
-
23 Nov 2017
LACA North West are organising a Boat trip, here are the details:
12.45 pm - Start at Castlefield, Manchester where we will pick up the boat and head towards Media City at Salford Quays
Afternoon tea will be served on board
Arrive at Salford Quays at 14.40pm
3pm we will have a guided tour of the BBC – Media City (to last 1 hour 45 mins)
5pm return journey with glass of Prosecco
Suppliers (who wants to) will be given a opportunity to do a five minute presentation about their products on the way back
6pm arrive back at Castlefield were you can depart or join us for a few drinks in Manchester
The cost for the event will be £50.52 per person based on 22 people attending, would like an even split of contractors and members if possible. This is going to be a great event and hope to see you.
RSVP to Christine Mortimer (christine.mortimer@salford.gov.uk) by 6 November to attend.